(Update: and no, global warming hasn't stopped.
)
Read Seth Borenstein's story -
Biggest Jump Ever in Global Warming Gases
from 2009 to 2010; we're speeding up in the wrong direction, dumping greenhouse gases into the atmosphere faster than ever. If we continue on this trajectory, we're aiming to cook your kids, metaphorically speaking.
Think, folks, please; that head on your shoulders isn't just decorative.
Recognize that tending your own garden isn't enough - "Even with a 90% participation rate, the strategy of "living poor" isn't working."
Everyone who has a child has a stake in the future. If you care for yours, what should you do?
"You do:
everything you can to
increase public demand for
significant and immediate policy action to
combat global climate change." (*)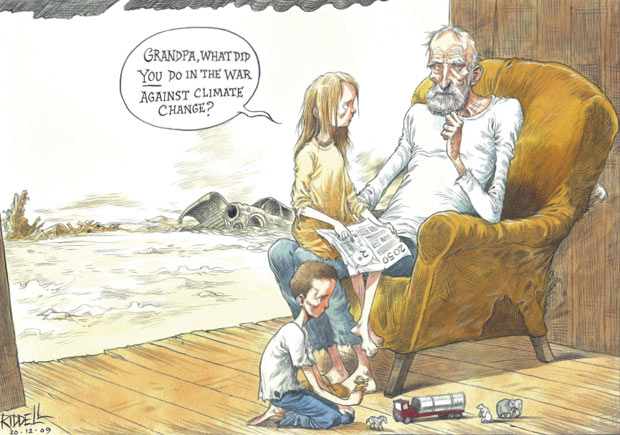 Update: more info, from RealClimate's
Keystone XL: Game over?
"The kind of climate we wind up with is largely determined by the total amount of carbon we emit into the atmosphere as CO2 in the time before we finally kick the fossil fuel habit (by choice or by virtue of simply running out). The link between cumulative carbon and climate was discussed at RealClimate here when the papers on the subject first came out in Nature. A good introduction to the work can be found in this National Research Council report on Climate Stabilization targets, of which I

[Pierrehumbert]

was a co-author. Here's all you ever really need to know about CO2 emissions and climate:

The peak warming is linearly proportional to the cumulative carbon emitted
It doesn't matter much how rapidly the carbon is emitted
The warming you get when you stop emitting carbon is what you are stuck with for the next thousand years
The climate recovers only slightly over the next ten thousand years
At the mid-range of IPCC climate sensitivity, a trillion tonnes cumulative carbon gives you about 2C global mean warming above the pre-industrial temperature."
The "when the papers came out" RC post they linked,
Hit the brakes hard
, said:
"unless humankind puts on the brakes very quickly and aggressively (i.e. global reductions of 80% by 2050), we face a high probability of driving climate beyond a 2°C threshold taken by both studies as a "danger limit".
...
We feel compelled to note that

even a "moderate" warming of 2°C stands a strong chance of provoking drought and storm responses that could challenge civilized society, leading potentially to the conflict and suffering that go with failed states and mass migration

s."